On Sunday night I was sitting there writing a recipe post and scrolling through Instagram, waiting on the second episode of Downton Abbey to air when I saw a post by a style-blogger I follow. "Who do you think is #bestdressed at the Golden Globes?" she asked. So then, realizing one of my favorite fashion-moments of the year was happening, I stalked the hashtags on Instagram and spied on all the fashion. Here, then, are the dresses I like most. They're not necessarily the dresses everyone else liked, but since when have I cared? My ten favorite dresses from the Golden Globe Awards were worn by:
Saiorse Ronan:
She chose a Yves St. Laurent gown designed by Hedi Slimane. I love the ethereal delicacy of this whole look and her fresh, simple makeup.
Lily James:
This gown appears white at first glance but is really a rainbow-pastel Marchesa gown. I love the delicacy. I love the innocent glamour. I love that Lily James does not disappoint all of us who loved her as Cinderella by wearing something ugly and modern. She looked angelic and girlish and perfectly Lily. Well done.
Amber Heard: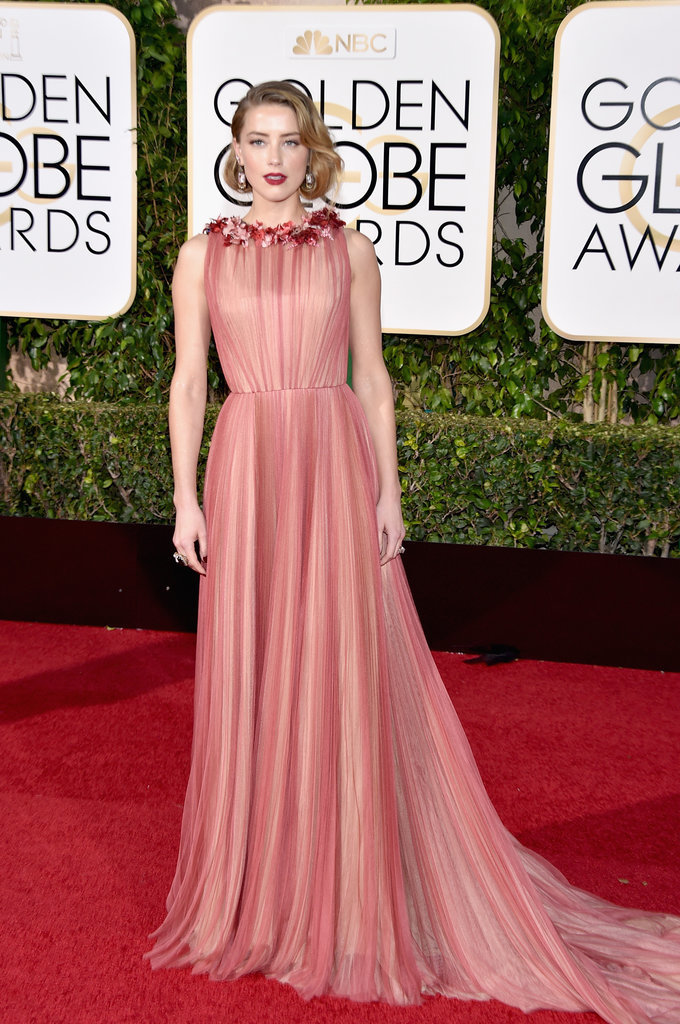 This rose-bud Gucci gown is a straight-up confection. I love everything about this dress. The color, the drape, the floral detail at the neck. It's just delicious.
Lady Gaga:
It's not often I agree with Lady Gaga's style choices, but in this case, I think she looks lovely. The padded hips of this Atelier Versace gown are add a quirky flair to an otherwise classically Golden - Age Hollywood gown and with 210 carats of Neil Lane diamonds at her wrists, the lady literally sparkled.
Viola Davis: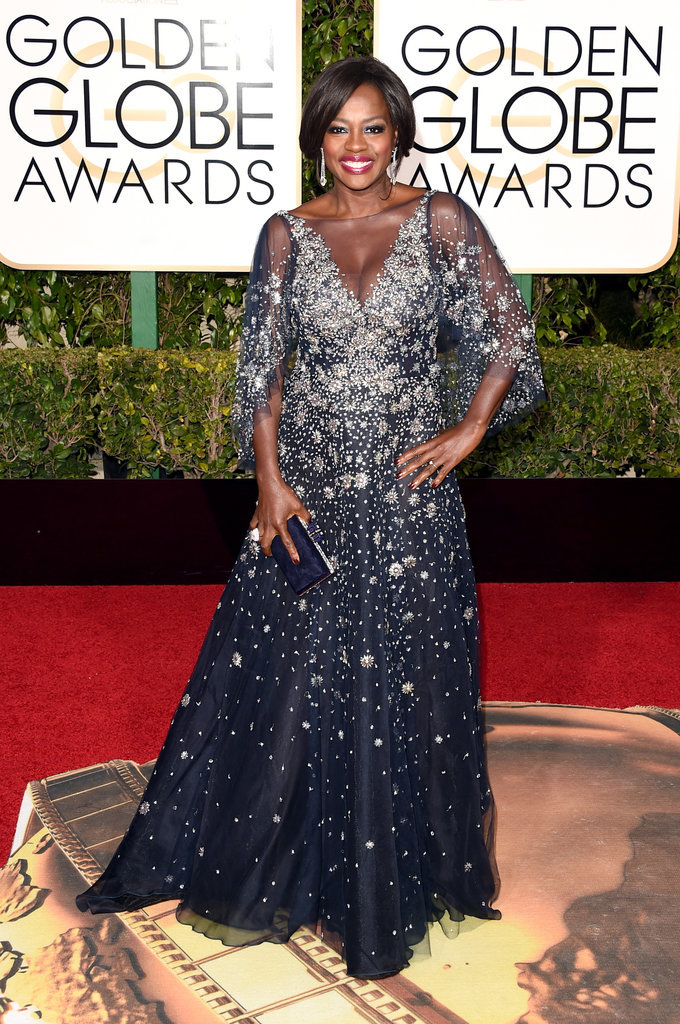 Another Marchesa gown chosen by one of my favorite actresses! This starry, sparkling affair worn by Viola Davis was just beautiful. I loved watching its movement as the actress spoke on-stage and the way every inch of it caught the light. What can I say? I'm a magpie.
Jenna Dewan Tatum:
I need someone to find the panel of Ms. Tatum's bodice which apparently fell off between her limo and the red carpet but the rest of this Zuhair Murad Couture gown is absolutely celestial. I'm a huge fan of the stars & heavenlies trends of the past sartorial year. This gown is as mind-numbingly beautiful as the winter skies. An excellent choice by Jenna Dewan Tatum and her stylists.
Zendaya:
I absolutely adored yet another choice of a Marchesa gown. This rich look is sumptuous and elegant and yet simple. It's the sort of dress I always end up drawing when I sit down to draw a dress and the sort I imagine myself wearing one day to a red-carpet event, though I know I won't end up on the red carpet anytime soon. Marchesa was on FIRE, Sunday.
Gina Rodriguez:
Total princess moment here for Gina Rodriguez in her Zac Posen gown. I adore this gown. It's traditional. It's regal. It's a terrific and slightly unexpected color and if the beaming smile the actress wore all night is any indicator, she knew what a perfect choice it was.
Cate Blanchett: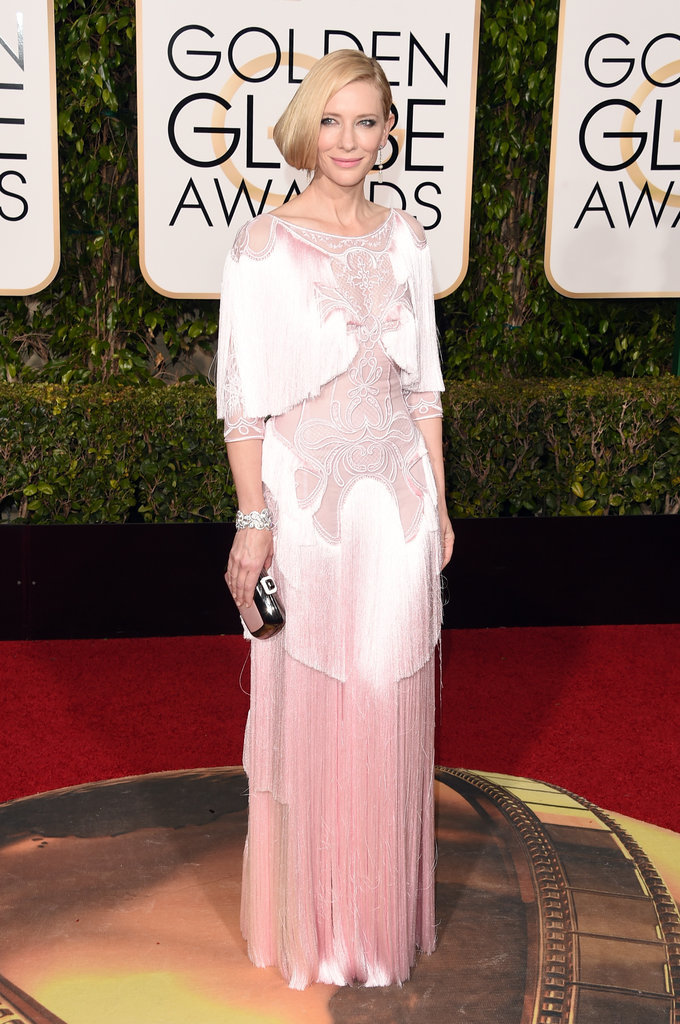 I couldn't decide about Cate Blanchett's Givenchy gown for the longest time. I love the 1920's/30's influence with the fringe and the draping, caped shoulders. In the end, I found it interesting, worthy of remarking, and a neat shake-up from the rest of the night's gowns.
Emilia Clarke:
"I'm wearing Valentino, for heaven's sake!"
The fact that the above quote comes from a character named Emily in my favorite high-fashion films and that this actress who also wore Valentino is named "Emilia" makes me happy for some reason. This dress isn't particularly groundbreaking. It's fairly classic. But that's why I like it. I like the lace and the structured bodice versus the unstructured, flowing skirt. Lovely choice for Emilia Clarke!
Which were your favorite gowns?