Moisturizing is one of things I used to ignore. My skin had enough oil of its own - why on earth would I want to add more to compound the problem? But gradually the way the human body works began to make sense: when our skin feels stripped of moisture, it begins to manufacture more oil to compensate. By nourishing my face with natural, healthy oils or a natural, healthy cream, I am soothing my skin and telling it, "It's okay. You can rest." As a result, my skin will be healthier, more supple, and less prone to breakouts. Sadly, I ran out of the sample moisturizer I had been using as well as the coconut oil which I like to put on my face before bed. Right about this time, Melinda Pound - the creative mind and power behind
Healthy Farmgirl
- contacted me about reviewing one of her products. Healthy Farmgirl Beauty Co. was created as the result of Melinda's search for all natural, organic products she wanted use on her own body, face, and hair. She sent me a jar of
L'Essence de Fleur face and body cream
to test and asked I share my true and honest opinions on my blog afterward. I used the product for a week and noticed a marked improvement in the makeup of my skin. Places that had been irritated or dry before had evened out and my face felt much happier over all. I have continued to use the cream and will be sad when it runs out - I might have to order a full jar to continue!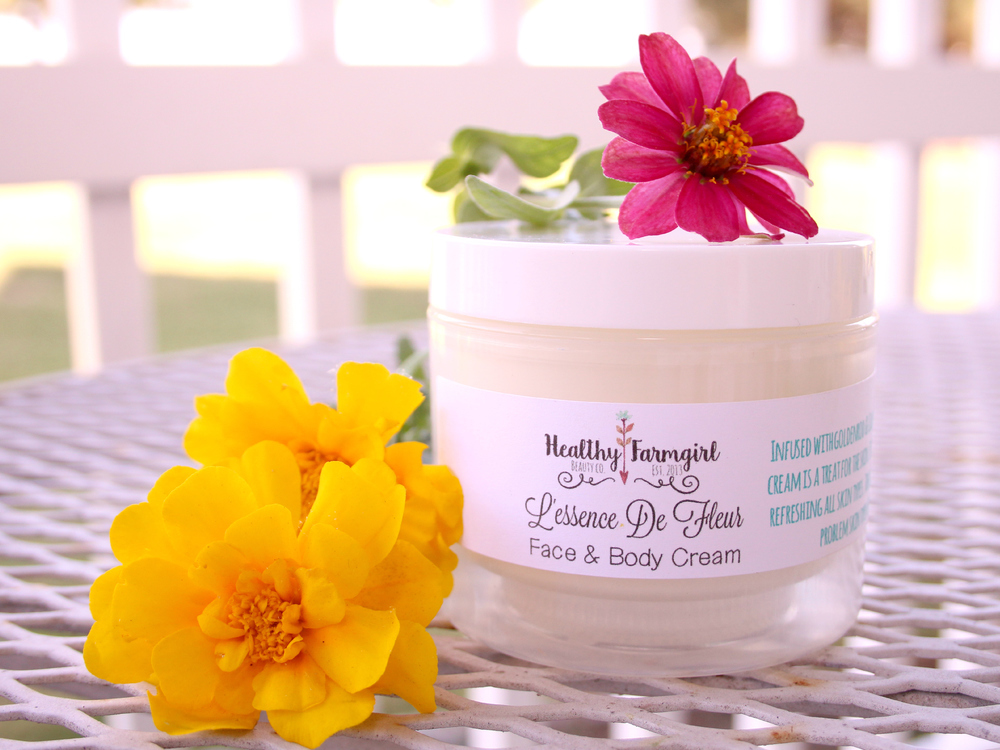 (melinda's photo)
Pros: Ultra-moisturizing concoction of almond oil, olive oil, beeswax, cocoa butter, calendula, ylang-ylang, and more are a veritable green-smoothie for the skin. I love how healthy my skin feels when I apply this cream.
Cons: I'm not wild about the scent, though it isn't unpleasant. Also, being that this cream is so moisturizing, it is also a little oily for daytime wear. I prefer to save it for overnight hydration. Both cons, however, are solved by applying before bed, since it isn't as if I'm going to walk around smelling like something I'm not in love with.
Final Consensus: I would highly recommend Melinda's products to anyone looking for a freshly-made, carefully-concocted skin product. She is personable, knowledgeable, and passionate about providing high-quality cosmetic assistants to both men and women.
Thank you, Melinda, for the sample! I am happy to send all of you her direction if you're in search of lotion, lip-balm, natural deodorant or anything else along those lines!